Press release from 04/14/2016
Scuderia Ferrari and NGK Spark Plug team up for another season
Ratingen, 14. April 2016 – For the 21st time, Scuderia Ferrari, the Formula One team most rich in tradition, and NGK Spark Plug, the world's leading manufacturer of spark plugs, are joining forces to face up to fierce competition in the current racing season. The renewal of the partnership was officially announced on the occasion of the car presentation in Maranello in February.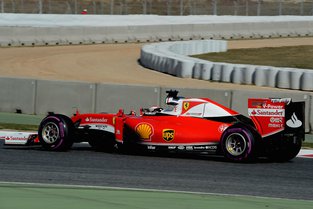 NGK Spark Plug and racing – in particular Formula One – go together like fire and brimstone. The ignition and sensor specialist has sparked far more than 300 victories and – taking the Constructors' and Drivers' Championship together – has contributed to 32 titles in Formula One alone. Many of these successes were the result of a cooperation which has continued for more than two decades: NGK Spark Plug and Scuderia Ferrari teamed up for the first time in 1996. In the following years, they won six World Championship Drivers' and eight Constructors' Championships.
In the 2016/2017 season, Scuderia Ferrari and NGK Spark Plug will again be at the starting line as a team. NGK is exclusive supplier of spark plugs for the SF16-H, which Scuderia Ferrari just recently presented to the public. Additionally, to celebrate the longstanding partnership of the two companies, the car prominently displays the NGK logo.
Scuderia Ferrari and NGK Spark Plug also announced that the existing contract has been extended until 2020. The team from Maranello will therefore fully rely on high-tech spark plugs from NGK again in the seasons to come up until the end of the decade. The reason is simple: Thanks to a maximum degree of know-how and expert knowledge, NGK is able to tailor spark plugs to meet the high demands of the racing cars which bear the trademark of ultimate performance and technical sophistication: the "Cavallino Rampante".
"We are proud of so many years of cooperation and so many successes achieved during this time," says Damien Germès, Senior Vice President of NGK Spark Plug Europe. "We have been working closely with the technicians from Maranello again to jointly develop a spark plug which guarantees the highest performance and reliability in the world's most challenging competition. We are looking forward to seeing Sebastian Vettel and Kimi Räikkönen on the track again!"
About NGK: NGK is the world's leading manufacturer of spark plugs, glow plugs and lambda sensors. The Company runs production plants and sales organisations all over the world. With a total of 13,000 employees, the Company generates an annual turnover of around 2.7 billion euros. NGK is represented on all continents and has 43 group companies, 24 production plants and 5 technical centres.
NGK Spark Plug Europe GmbH,
Press Department
Harkortstr. 41, 40880 Ratingen
Germany