Professional Training & Certification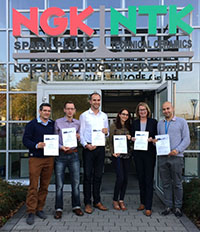 Personal training from the experts of NGK has long been a permanent fixture in the service offering for dealers and workshops. This proven training concept is supplemented by an interactive online training offering NGK E-Learning.
Our E-Learning offering is geared towards workshop employees, product managers, field staff employees, technical training centres, such as vocational schools or colleges and anyone interested in the technology. Anyone who would like to learn more about the technology of spark plugs, glow plugs, lambda sensors, ignition cables and ignition coils can quickly, comprehensively and flexibly educate themselves with the NGK E-Learning.
Hear, read, participate – these three elements ensure that even complex, technical content can be conveyed concisely and easily understood. Explanatory graphics, 3D animations, film sequences and interactive elements shape the online course for learners entertainingly and informatively.
Enrich your knowledge about NGK products: From the basic structure to installation tips to maintenance – here you can find all of the information in one place.